DIABETES-MELLITUS
HOSTED BY DR. JOE
PARA VER LA INTRODUCCION EN CASTELLANO HAGA CLICK AQUI
FOR THE SPANISH INTRO CLICK ABOVE

CLICK ON THE LOGO TO GO TO THE GRAY-RIBBON SITE
INTRODUCTION
These pages are a major effort to give all diabetics, their friends, relatives and caregivers,a comprehensive idea of that scourge of man that is Diabetes-Mellitus. Using this page and many links, as the information is just too much to be put on one site , I will try to build a site where anyone interested can get as much help as possible. To give you a little backround, I am a type 2 diabetic and a professional in the health field, I have collaborated as a sysop on the Compuserve Diabetes Forum, and have been involved with other major DM sites such as IDDT and David Groves's Diabetics World, I have no other interest in putting in all this time and work but to try and help. This site is NOT commercial, and anything on it may be used freely. I will confess that I have taken a great deal of information from many web sites. Sometimes with permission and sometimes without it. I suppose most people who are in this field would not mind very much, as our common objective is the same, to inform and press for a "CURE", but if anybody is really uptight about it, just let me know if I have stepped on your toes and the files will be removed ASAP. As I said before the site is free but small contributions will be accepted to defray telephone and maintenance costs. At the top of this page there are two logos for the gray ribbon campaign, this was born on the compuserve DM forum and has gone worldwide. President Clinton as well as many other dignataries around the world have worn the ribbon. If you wish to know more about the Gray-Ribbon campaign click on the logo and you will be taken to a gray-ribbon site with many links. After, just click on your browsers back button and you will be returned to this page. I have incorporated Diabetes information in Spanish and some other languages, so if you would like to view them click on the links provided further on. Contributions of material, suggestions, comments, gripes and so forth are welcome, just click on the following link.
---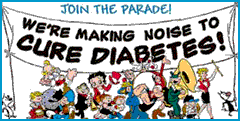 IMAGE FROM DIABETICS UNITE, CANADA (CLICK TO ACCESS SITE)

ANY CONTRIBUTIONS FOR THE UP-KEEP OF THESE PAGES CAN BE SENT TO

DR. JOSÉ LUIS GARCÍA M.
PRADO NORTE 655-301
MÉXICO D.F. 1100
MÉXICO
---


WITH SPECIAL THANKS TO NIDDK AND ALL
ARTICLES IN SPANISH ARE MARKED WITH A PINK BUTTON


LOS ARTICULOS EN ESPAÑOL ESTAN MARCADOS CON UN BOTON ROSA
---
DUE TO TECHNICAL PROBS SOME LINKS TO IMAGES MAY BE BROKEN
I AM WORKING ON IT !!!
(think I have the prob almost solved, let meknow)
---
THE NEXT ARTICLES ARE FROM NIDDK IN TEXT FORMAT FOR FASTER DOWNLOADING OR PRINTING



AS WELL AS THE ORIGINAL HTM FILES FROM NIDDK WHICH ARE BEAUTIFUL AND HIGHLY RECOMMENDED TO ALL PERSONS WITH DM ALTHOUGH THEY DO TAKE LONGER TO LOAD. THANKS AGAIN TO NIDDK AND THE FINE PEOPLE WHO WROTE THEM FOR ALL OF US WITH DIABETES.
DO YOUR LEVEL BEST TO CONTROL DM (HTM)


DIABETES CONTROL AND COMPLICATIONS TRIAL (DCCT) (HTM)

BACK TO TOP-VOLVER AL PRINCIPIO
YOU ARE VISITOR NO:
UNDER CONSTRUCCION LAST UPDATE NOV. 1999